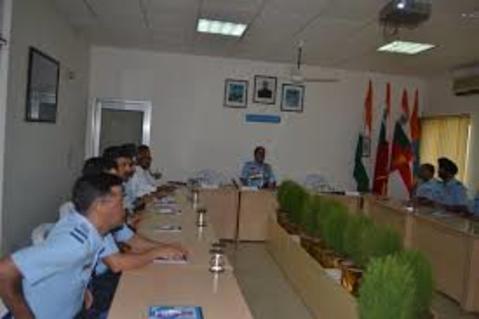 VARANASI SSB CENTRE
Varanasi Cantt,Varanasi– 221002

Fax – 0542-2502836

Phone – 0542-2503853 Extn 213
Reporting Point –Cantonment side exit under Overhead Bridge (Platform No. 9),Varanasi Junction Railway Station.
4AFSB or Air Force Selection Board is located in Varanasi Cant area of Varanasi. This board shortlists potential candidates having officers like qualities through a scientific testing procedure which extends for 5 days. Candidates are Interviewed here for various entries like NDA, CDSE, NCC and AFCAT entry.
The board has all necessary facilities to provide a comfortable environment to stay at the board.
History
It is believed that Varanasi was founded by the god Shiva. During the Mauryan Empire the city was connected by a road which originates from Taxila and ending at Pataliputra. In the 16th century, Mughal emperor Akbar invested in the city to built two large temples dedicated to Shiva and Vishnu.
How to Reach
Rail –Varanasi Junction is mostly known as Varanasi Cantt Railway Station is well connected to major cities like Delhi, Lucknow, Mumbai and Kolkata by Indian Railways network. Approximately more than 100 trains passes through this railway station, some of the important trains are Kashi Vishwanath Express, Varuna Express, Dadar Express, Bareilly Express, Ahmedabad Express and Ranchi Express.

Road – National Highway 2 connects the city to Kanpur, Kolkata, Agra and national capital Delhi. NH 29 links the city with Gorakhpur via Ghazipur, NH 7 connects the city to the southern parts like Hyderabad, Madurai, Bangalore and Kanyakumari. Air – If you are planning to go by air then you have to deboard at Lal Bahadur Shastri International Airport. Air India, Jet Airways, Buddha Air, SpiceJet, and Jet Konnect operate flights from Varanasi to various major cities including Gaya, Delhi, Kathmandu, Lucknow, Khajuraho, Kolkata, and Mumbai.
Hotels -
Following are the Hotels which are close to Varanasi Junction Railway Station.

Name – Hotel Surya

Range – Rs. 600 onwards

Name – Shri Venkateshwar Lodge

Range – Rs. 490 onwards

Name – Hotel Vaibhav

Range – Rs. 1000 onwards
Place to Visit
Varanasi is holiest of the seven sacred cities in Jainism and Hinduism, the city is situated on the banks of the holy river Ganges. Varanasi is also known as spiritual capital of India due to various spiritual idols in the city relating to almost all religions of the country. Few of the landmarks which you can visit are Jantar Mantar, Ramnagar Fort, and Sarnath Museum. The most famous temples of Varanasi are Kashi Vishwanath Temple of Lord Shiva, the Sankat Mochan Hanuman Temple, and the Durga Temple infamous for the band of monkeys that reside in the nearby large trees.